Bath is a World Heritage city and unique in many respects. It has a known history going back to 43AD when the Romans settled here and built the city of Aquae Sulis around its hot natural springs. But it is certain that there was also a Celtic shrine here before that -- with its own Goddess, Sulis. Further back still, it is highly likely that it was an important Neolithic site or sacred spot of some sort.

Bath is best known for its Roman remains, the most important so far discovered being the Hot Baths (though an extensive Roman city still lies not far below the pavements of the city centre), but also for its Georgian architecture when John Wood and others demolished large parts of the Tudor city in the late 18th century and built the neo-classical buildings and houses that now occupy many parts of the city. It is not surprising, therefore, that Bath is a popular tourist venue -- particularly as it is surrounded with beautiful rolling countryside.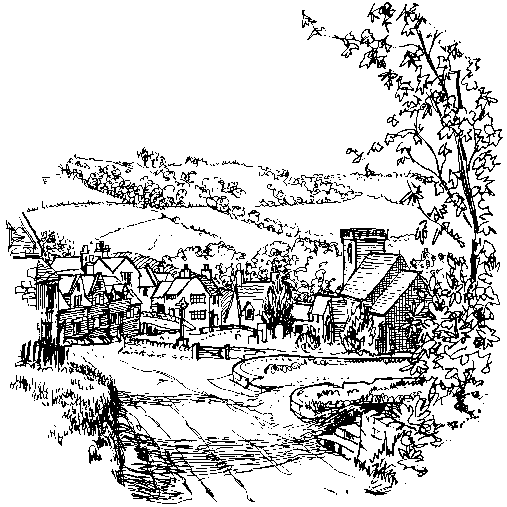 A typical Cotswold village near Bath



However, Bath is also a lively cultural city and its International Festival of Music, held every May (when some areas of the city on opening night are lit only with candles), is among the major Festivals in the world. In a city of about 80,000 people it has several fine orchestras such as Bath Philharmonia Orchestra (under the rising young conductor, Jason Thornton), Bath Symphony Orchestra and the Argyle String Orchestra. Chorally, at the last count two or three years ago, the writer jotted down 23 choirs in Bath ranging from the Bath Bach Choir (which has recently been singing in Notre Dame and Chartres Cathedral), Bath Choral Society, Bath Minerva Choir, the Chantry Singers, Bath Cantata Group, the Paragon Singers and many other smaller chamber choirs, opera groups and madrigal and glee singers.

The illustration shown on the Home Page is a watercolour by Richard Miller-Williams and was originally intended only to show three of the principal buildings of Bath. In the background is Bath Abbey, built in perpendicular gothic style for £300 at around 1520 (though antecedant monasteries on the site date back to the 600s). In the foreground are the houses of Royal Crescent, designed and built by the great architect and building speculator of the 18th century, John Wood. Pulteney Bridge in the centre was built by George Pulteney. Unfortunately, it bankrupted him and the project was rescued financially only by building shops on it, thus making it one of the only two such bridges in the world (the other being the Ponte Vecchio in Florence).




World Headquarters of Handlo Music



Finally -- and more domestically -- it may be of some interest to know that Handlo Music is published from an office at the rear of a typical Georgian house in Bath built in 1815. The office is actually a vaulted cave cut into a limestone cliffs and originally served as an ice room. (The ice was very expensive indeed in those days and came from a freshwater lake near Boston, Massachusetts, where it was cut with special ice-ploughs. It was then packed in straw and sent by ship all over the world. Unbelievably, some of it even went 1,000 miles up the River Ganges to British Officers' Messes in the Indian Army!) Back to Handlo Music, suffice it to say that, as a virtual business, our management team is widely dispersed and we are helped by people all over the world.

Keith Hudson